Bunnies all need beds to sleep, whether they have single bedrooms or shared. There needs to be pretty wallpaper and flooring to set the mood.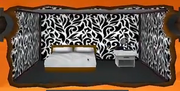 . I like to have a gap between two standard beds then one high , stood up by the ends of the lower beds. Bunnies like bedrooms with lamps/clocks/storage places in their rooms.
. Chairs and toys also help comfort. Remember to get bunnies friendly before putting them together.
Ad blocker interference detected!
Wikia is a free-to-use site that makes money from advertising. We have a modified experience for viewers using ad blockers

Wikia is not accessible if you've made further modifications. Remove the custom ad blocker rule(s) and the page will load as expected.