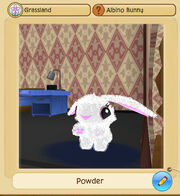 This page has been marked for review
This page, or parts thereof, have been marked as needing review. Please only remove this template after consulting the original user.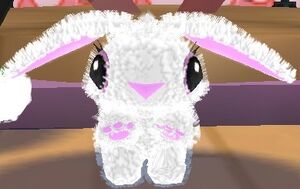 Names are automatic. Animal Jam says that bunnies don't like them, and the names are not exactly fitting.
Names
Names are the most important thing about your bunnies! Use this guide to help choose your bunny's personality and name. But don't forget to think up some yourself!
Name suggestions
Dust:
Dusty, Puff, Dank, Della, Sahara, Mingu, Cocoa, Brownie, Coco and Dark
Sun:
Ray, Beam, Blaze, Sol, Flaze, Siri Sola, Celestia, Bundle 'o, Sunlight, Sunny, and Light
Cactus:
Bloom, Thorn, Spike, Prickle, Blossom, and Rose. Yucca, (a kind of cactus!) Peck, Pika, and Desert.
Frog:
Hop and Swamp.
Wildebeest:
Buffalo, Bison, Plains, Meset, Horny, and Charge.
Founder:
Glowing, Golden, Beta, Shark, Sparkle, Shine, and Goldie.
Leopard:
Speedy, Lightning, Leopard, Zippy, Cheetah, and Spotty.
Seafoam:
Aqua, Tsunami, Riptide, Seaweed, Ariel, Anemone, Kelp, River, Delta, and Dolphin.
Chinchilly:
Winters, Snowflake, Fluffy, Olaf, Icicle, Cuddles Snowfluff, Fuzzball, and Snowy.
Mountain:
Sierraen, Peak, Majesty, Summit, Cherry, Grape, Plateau, Boulder, Rocky, and Rockslide.
Paradise:
Morning Glory, Glory, Violet, Bella, Dazzling, Rainbowshine, Sparkle, Tropical, and Sunflower.
Butterfly:
Flitter, Beauty, Joelle, Joy, Sparkle, Bright, Izzy, Bella, and Cutie Pie.
Lion:
Majesty, Regal, Pride, Mane, Fluff,Fear, Leo,Roar,

and Fluffykinz.
Shark:
Toothy, Jaws, Bite, Fear, and Fins.
Moon:
Luna, Night, Nightmare, Stella, Moonbeam, Comet, Mooshine, Darklight, Dark, Star, Noel, Eclipse, and Neil.
Prairie:
Perry, Grass, Rye, Wheat, Sky, Grassy, Golden, Plain, Rocky, Grasshopper, Daisy, and Greenie
Albino:
Marshmallow, Winter, Surprise, Snowflake, Mello, Snow White, and Cutie.
Chameleon:
Colors and Camo
Squid:
Squidward, Inky, Squirts, Squirt, and Pinky
Cupid:
Valentine, Love, Lover's Day, and Sweetheart
Vampire bunny:
Ferocious, Bite, Devil, Evie, Spyeye, Bon Bite,Bunnicula, And Vampy.
Frankenstein Bunny:
Frankie or Franky, Frankenstien, Evie, Pat.
Miner 49er:
Moustace, The Man, and Pat
Beetle:
Spyeye, Bighorn, Cutie, and Darkness.
Fox:
Fluff, Fuzz, Cuddles, Foxy, Fussy, Sneaker, and Zippper.
Jackalope:
Jack, Jackie boy, Mr.Bigantlers, and Pattie.
Goat:
Goaty, Goat, Chomper, and Brownie,
Mouse:
Rata, Lucy, Cutie, Wiskers, Jerry, Grayfur, Pip, and Squeak.
Snail:
Gary, Snaily, Slither, Poki, and Detective Snail.
Turtle:
Speedster, Tank, Jasmine, and Shelly.
Roadrunner:
Meep, Speedster, Highway, Birdy, and Speedy.
Zebra:
Stripes, Ziggy Zag, Zina, and Zebree.
Snowflake:
Snow, Snowfluff, Snowy, Snowball, and Fluffykinz
Fjord:
Mowhawker, Mr. Mohawk, and Lazie
Walrus:
Tusks, Fluff, Brownie, and Seatusks.
Wildflower:
Flower, Flowershine, Stella, and Flowerflow
Toucan:
Jungle, Beaker, Flappy Bunny,Toucan Sam, and Mr. Toucan
Narwal: BFBDOT, and Bighorn.
Angler:
LightScare, Evie and Creeper.
Sprout:
Jade, Leafia, Emerald
We hope we have names for them all!
BFBDOT:
Blue Fluffy Bunny Dancing On Tunnels!

If SmartBomb Interactive made a new bunny what bunny would you choose and what would you name it?
A:
Eagle bunny
B:
Puppy bunny
C:
Cat bunny

Name?