Cleanup
This article does not meet the wiki standards for quality. It may need to be reworded, reformatted, or removed.
Description
So, is this an ordinary rabbit covered in snow, or a really fluffy rabbit that just happens to LOOK like snow, or is it somehow actually made out of living snow? It's a fair question. Breed one and let us know, will you?
Seasonal: Midwinter
Migrating bunnies that are tricky to breed, since they only seem to show up at certain times of the year. Try different combinations of Tropical and Ocean varieties to get a Candy bunny. If there's one thing that Elf, Santa and Frosty bunnies have in common, it's Candy.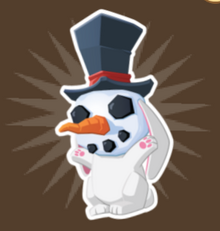 Appearance
The Frosty Bunny, unlike most other bunnies, comes in only one variant. It is pure white, and looks like it is wearing a snowman mask from Animal Jam, a game created by Wildworks (the same creator of Tunnel Town). The snowman mask is a white-sky blue color with a bumpy orange carrot nose, 2 large gray coals for eyes, 3 for its smile, and a gray, boxy old top hat with a red lace around the bottom of the top hat.
Breeding guide
Snowman + Snowman, ?
Candy Stripe Bunny + Elf Bunny