Cleanup
This article does not meet the wiki standards for quality. It may need to be reworded, reformatted, or removed.
Description
So, is this an ordinary rabbit covered in snow, or a really fluffy rabbit that just happens to LOOK like snow, or is it somehow actually made out of living snow? It's a fair question. Breed one and let us know, will you?
Seasonal: Midwinter
Migrating bunnies that are tricky to breed, since they only seem to show up at certain times of the year. Try different combinations of Tropical and Ocean varieties to get a Candy bunny. If there's one thing that Elf, Santa and Frosty bunnies have in common, it's Candy.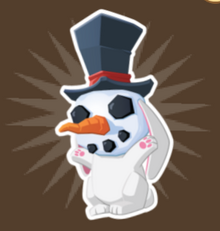 Appearance and other
They have white markings and look like snowmen. They cost (please add.)
Breeding guide
Snowman + Snowman, ?