Cleanup
This article does not meet the wiki standards for quality. It may need to be reworded, reformatted, or removed.
Description
No bunny loves liberty and fireworks quite like the Freedom Bunny! Easily spotted with their bright stars and colorful sparkles, these bunnies are at the heart of any celebration.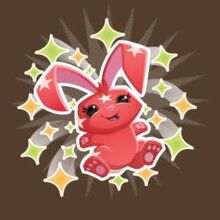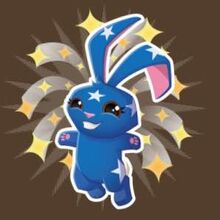 Appearance
These bunnies come in red and blue, with white stars on their head and all over their body, and trail sparks when walking around. They cost 425 stars in stores.
Breeding Guide
Breeding Time: This bunny takes 1 day 3 hours 29 minutes to breed.
Freedom + Freedom
Freedom + Any Bunny
Shark + Cactus
Squid + Cactus
Cactus + Moon
Roadrunner + Shark
Roadrunner + Seafoam
Seahorse + Turtle
Sun + Moon
Dust + Moon
Seafoam + Cactus