Cleanup
This article does not meet the wiki standards for quality. It may need to be reworded, reformatted, or removed.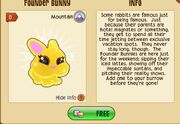 What does a Founder Bunny look like?
A Founder bunny is a little, golden bunny that has a sparkles around it. It has the same basic shape and size as a Mountain Bunny.
Why isn't it in stores?
This bunny is not sold in stores. The founder bunny was only available in July 18-23, 2013 for 0 gems. It is listed under the Mountain category. This was the first limited edition bunny in the game. It cannot be bred.