The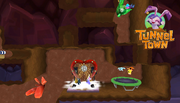 concept of a burrow is essential to the mechanics of
Tunnel Town
. It is where a player's
bunnies
will reside the majority of the time, where the player can add furniture and change the design of the walls, ceiling, and floor. Each player starts with an identical burrow, but can immediately begin to customise it through layout and design.
Digging
The process of expanding the burrow may be done by using the Dig option to highlight tiles. One of the player's idle bunnies will then move to the specified area and begin excavating the specified area, at the cost of energy. There is an upper limit to the number of tiles that can be highlighted at one time; there must also be a clear path for the bunnies to reach the excavation area, otherwise the tiles will be highlighted red instead of green. Tiles can be filled in using the Fill option.
Pipes
Main article: Pipes
Wallpaper
Main article: Wallpaper
Flooring
Main article: Flooring
Ad blocker interference detected!
Wikia is a free-to-use site that makes money from advertising. We have a modified experience for viewers using ad blockers

Wikia is not accessible if you've made further modifications. Remove the custom ad blocker rule(s) and the page will load as expected.